YODA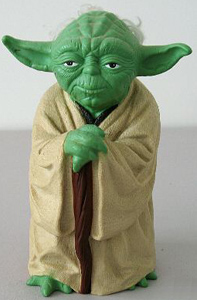 A RETROSPECTIVE
In 1995 history was made and the San Francisco art scene has never been the same since.
"The One That Started It All"
Ape

By Unknown

Steve Gawley

By Joel Friesch

Einstein

By Unknown

The Bride

By Unknown
Opey

By Unknown

Piss Yoda

By Unknown

Digital God

By Unknown

Diva

By Unknown
Rastafarian

By Unknown

Spoda Yock

By Unknown

Elvis

By Melanie Walas

Tom Jones

By Pam Kibbey

Ice

By Steve Walton
Witch Doctor

By Bill Boes

Confucius

By Fon Davis

Silver Fish

By Jerome Ranft

Van Goda

By Unknown

Jello Salad

By Bonita Decarlo
Caligyoda

By Unknown

Unknown

By Unknown

George

By Unknown

Pest Pasta

By Carl Miller
Golden Yoda

By Dawn Swiderski

Mars Attacks

By Damon Bard

White Foam

By Fon Davis

Skull

By Webster Colcord
Peach Composite

By Unknown

Missing

By Chris Goehe

Art

By Chris Goehe

McYoda

By Unknown
Day 1

By Bill Boes

Spawn

By Unknown

Fork Lady

By Unknown

Miss Spider

By Unknown
Stalen

By Mike Gravette

Yoda Of Turin

By Unknown

Absolut Yoda

By Dawn Swiderski

Sweet Sugar

By Unknown
Velvet Painting

By Unknown

Shaman

By Lee Bo Henry

Stage

By Unknown

Worhol Yoda

By Kendal Cronkhite
Yarge

By Mark Fiorenza

Running

By Unknown

Gold Lung

By Unknown

Sunday In The Park With Yoda

By Laura Schultz
From The Asylum

By Kelly Asbury & Mike Mitchell

Yoda Screams In Soy Sauce

By Chuck Duke
Please e-mail corrections, comments and questions to:

The History
In an unassuming SOMA warehouse a scale fruit fabricator brought Yoda hand puppet into work. The young man named Fon, thought it might be fun to use some of excess silicone rubber, from making big fruit, to make a mold of the puppet. Then he and the other fruit fabricators started casting plaster Yoda statues from the mold every time they had extra plaster from making big fruit. They gave what was called "Garden Yodas" to other employees in the building every time they made big fruit. They made a lot of big fruit! It was not long before almost everyone had a Yoda.
One day a model maker by the name of Joel thought it would be funny to make his Yoda look like his boss Mitch. When Steve saw the Mitch Yoda he was so thrilled that Joel decided to make a Steve Yoda too. After a while Yodas all over the building were being turned into works of art.
Then the Yoda creativity came to a critical mass. A pair of artist Dawn and Bill understood what needed to happen. The world needed to see the Yodas. So they made art history on September 8, 1995 by hosting one of the greatest art shows in San Francisco history.
Yoda A Retrospective.
The day of the show all work making big fruit ceased as everyone prepared for this triumphant event! The artist all put the final touches on their messages to the world.
Yoda ( your message here )!